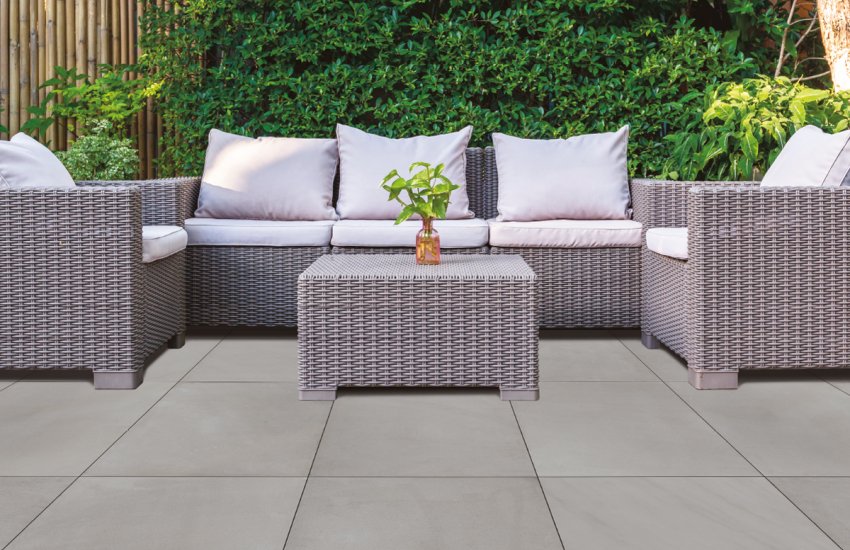 Over the last few years, we have seen a huge increase in the demand and popularity of porcelain paving. We love seeing a newly installed porcelain patio – its modern look always creates a highly desirable outdoor space, perfect for entertaining and soaking up the sun.
Still relatively new to the landscaping market, porcelain paving combines the latest in advanced paving solutions with Italian styling to give a robust and durable patio. There are many benefits in choosing a porcelain paved patio compared to alternative paving materials, such as sandstone. Below we list the 7 reasons why we believe the trend for porcelain paving is on the up and up.
Why are More People Choosing Porcelain Paving for their Patios?
1. For its Contemporary Style & Huge Range 
Porcelain offers a much more contemporary look and feel for your outdoor space compared to traditional materials, such as natural stone or concrete. The incredible advances in porcelain inkjet printing technology have allowed for a huge expansion in the range of porcelain paving slabs now available. This means that you can choose porcelain options that look like the natural material that inspired it – for example a wood effect which combines the natural look of timber with the durability that porcelain boasts.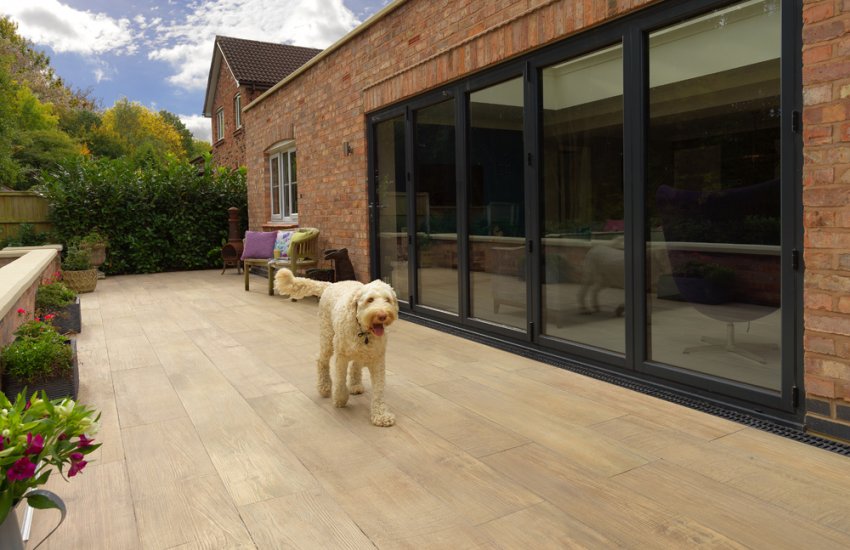 2. It is Low Maintenance 
One of the biggest advantages of installing a porcelain paving slabs is that when your patio is complete, it will be very low maintenance. This is because porcelain has incredibly low porosity, absorbing less than 0.05% surface water. Natural stone alternatives will vary in porosity and require much more maintenance to keep your patio looking fresh. What's more is that porcelain paving doesn't need sealing, unlike natural stone paving, and it can be easily cleaned with a mop or pressure washer. No specialist cleaning materials are required.
3. It is Moisture Resistant & Frost Proof 
The way porcelain is finished in its manufacturing process means that it will remain water resistant for years, with no additional maintenance necessary. This also means that it is slip-resist and resistant to moss & mould. Fungus growth can just be wiped away too. The extremely low porosity nature of porcelain allows slabs to remain unaffected by changes in temperature, which can sometime cause damage to natural products. Porcelain will never expand, contract or warp.
4. It is Fade Resistant 
Porcelain is unaffected by the sun so the colour won't fade or change over time. This means that a porcelain patio will stay looking new and consistent for much longer than sandstone patios. Porcelain slabs are also stain resistant too so you don't need to worry about spills and droppages causing any lasting damage when you are enjoying your outdoor space.
5. For the Benefits of it being an Engineered Material
Being factory produced,  you will find that most porcelain paving is both calibrated and rectified, ensuring perfect consistency in sizing as well as having extremely sharp and square edges.  This allows for narrow grout joints which will complement the contemporary style of your patio.
6. Porcelain can be Used to Create a Continuous Flow of Flooring Between Indoors & Outdoors 
many styles of porcelain paving slabs can be matched with an indoor tile to create a seamless flow between your indoor and outdoor space. This gives a highly desirable, modern look that will add to the serenity your property gives out.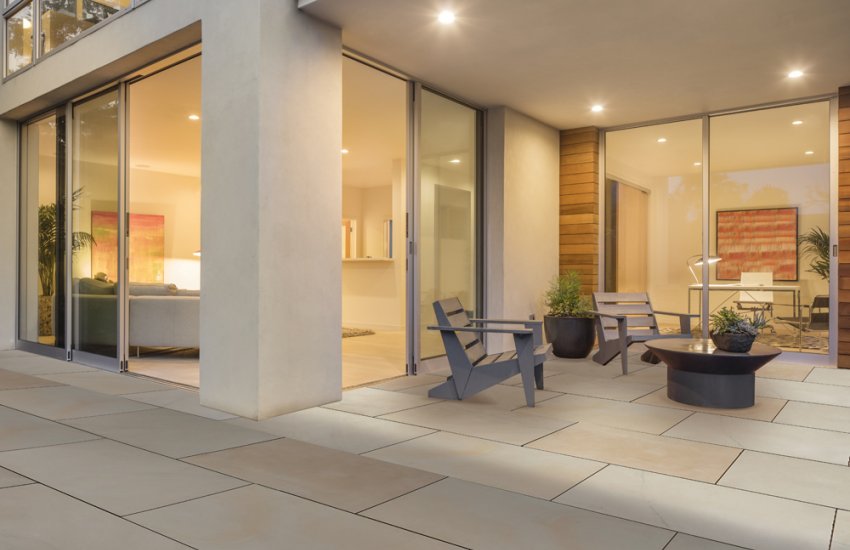 7. It is Incredibly Durable 
The manufacturing process of porcelain paving slabs turns it into one of the toughest patio options around. Each slab needs to be baked at extremely high temperatures, turning them into a glass like material. This makes porcelain ideal for heavy traffic areas. The hard-wearing nature of porcelain means it will retain its new and fresh look for longer. The scratch resistant properties of the material also help to ensure your patio can handle garden furniture without causing damage.
It is easy to see why porcelain has become more popular as a patio option, being so low maintenance and boasting so many resistant properties.