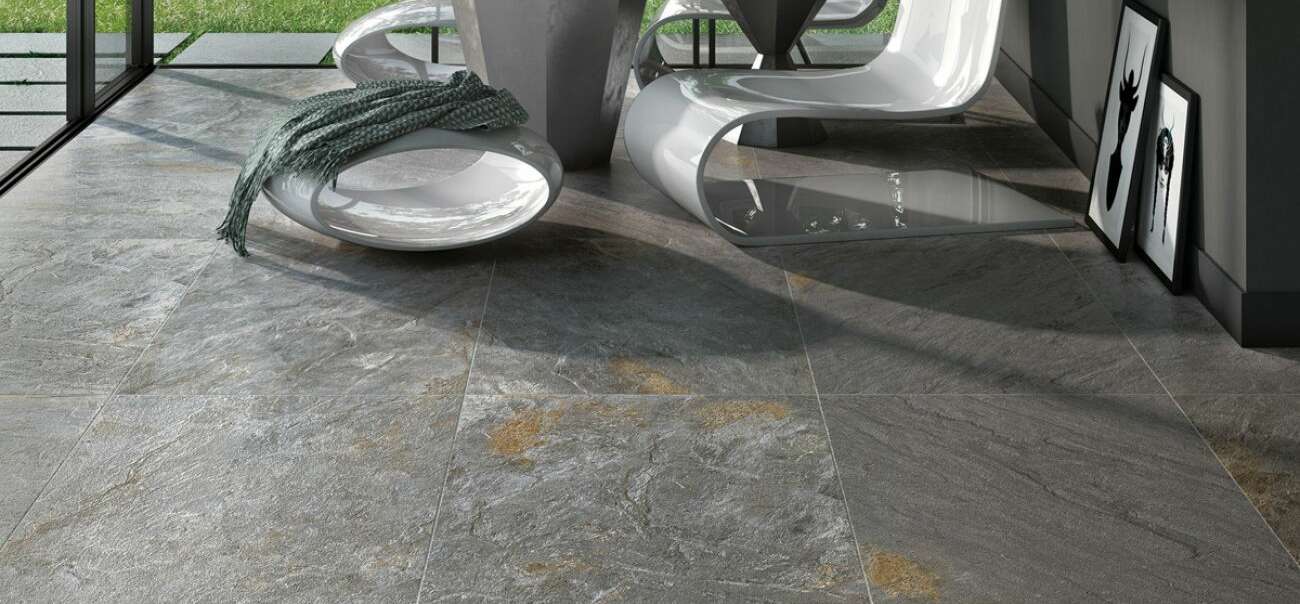 A new patio can really lift and transform your outdoor space. It can help you to enjoy your garden more; from entertaining friends to relaxing on loungers, soaking up the sun – your garden will have an exciting new appeal when your new paving has been installed.
Once you have decided that you want to refresh your outdoor space, you will need to decide which paving to go for. With so many options, the choice can seem overwhelming. So we've put this short guide together to look at our most popular options for paving materials.
Natural Sandstone Paving
If you are after a rustic style for your outdoor space, natural sandstone paving will have a strong appeal to you. Defining characteristics of this beautiful, natural product are its tonal variations and differing riven profiles.
Made from 100% natural sandstone, you'll find that no two paving slabs are exactly the same. This helps to create a unique and individual feel to your outdoor space as colours and patterns can vary from piece to piece. You will also find that the appearance of sandstone's tone and colour differs as lighting and weather conditions change.
Natural sandstone paving slabs are durable, yet easy to install. The sandstone we sell is hard-wearing and frost resistant to endure cold winter weather.
Sandstone is a porous material and this makes it easy for water to percolate. This means that sandstone paving will not hold large volumes of water. In addition to this, these paving slabs can withstand wet weather and still maintain their classic look. All sandstone sold by us will have a maximum water absorption of 1.7%. Sandstone with a water absorption percentage higher than 1.7% could go green within a matter of months, become slippery and be more susceptible to frost deterioration. Be sure to avoid poor quality sandstone as you will find it doesn't weather well.
We offer natural sandstone in a variety of colours so you will find it easy to choose one to suit your garden. We currently have special offers on 2 of our most popular colours; Imperial Green and Rustic Grey, at just £15.95 + VAT per m2. Our sandstone in Imperial Green delivers subtle colour variations in the slabs which come together to form a rich tapestry of greys and pinks. Our Rustic Grey sandstone offers slabs in stylish grey with tones which will deepen as the rain falls. Both of these are sold as patio packs which include a number of slabs in 4 different sizes, giving a total coverage of 19.52m2.
Porcelain Paving
Porcelain paving is relatively new to the landscaping market. Designed to look like natural stone, porcelain paving is actually a man-made simulation of carved stone. The main advantage of installing a porcelain patio compared to natural sandstone is that it is extremely low-maintenance and will not fade over time. This means that this paving will stay looking clean and fresh for much longer than alternative paving materials.
Porcelain slabs combine Italian style with robust, vitrified technology. They offer a truly modern look, a contrast to the classic style offered by natural sandstone.
Highly durable, porcelain paving also boasts dirt-repelling, frost and algae resistant properties. Our porcelain slabs have a non-porous finish which means moss cannot establish itself. Another major advantage is that porcelain is resistant to acid and alkali chemicals such as fertilizers and lawn treatments. Porcelain is also the easiest paving to keep clean.
Although is it more expensive to purchase than natural sandstone, with porcelain you will save on maintenance and cleaning so it is better value in the long run.
In contrast to natural sandstone, the appearance of porcelain will not be affected by the seasonal weather changes. Porcelain slabs will not experience colour fading. Blacks will stay black and not turn to grey, light colours will stay light colours and will not turn grey/brown. Their aesthetic finish will remain consistent for many years with minimal cleaning and maintenance.
Another big advantage of porcelain is that it is suitable for inside the home as well as outside. This allows for an area to be paved to create a seamless transition from your kitchen or dining room out to your patio.
If you think porcelain paving is the option for you – check out our latest deals on porcelain paving slabs. Until the end of August, we have 1000x500mm slabs at just £17.95 + VAT each in Slate or Dust. These offer are available exclusively in our branches, you can find your closest branch here.